In the beginning of my business, I added services as clients requested them. For about a year, I physically staged homes for sale.
The staging premise is nearly the same as redesigning your home except that it isn't as personal work as is decorating. Instead of decorating your home to your tastes, you "stage" your house to appeal to buyers. You want buyers to imagine themselves moving their belongings in while they are touring your house. Because buying a home is so personal, you want to do everything in your power to make buyers feel something that impels them to place an offer on your house the moment they leave.
I remember a call from a realtor that went something like this: This house has been on the market for over two years… the price may be high at $350,000… this house hasn't been redecorated since the 80's… WAIT UNTIL YOU SEE THE LAVENDER TILED BATHROOM… you have your work cut out for you! 
When I finally toured the house it wasn't the lavender bathroom that shocked me; lavender was actually in vogue at that time. What the real estate agent failed to mention was the second bathroom–it was a color disaster. A too large, wooden sink vanity had been recently installed on top of outdated vinyl sheet flooring, the colored bathtub had been painted white and was peeling, the shower doors were gross, and to top it all off the walls were partial yellow paint and mint green 4×4″ plastic tiles. I had my work cut out for me indeed!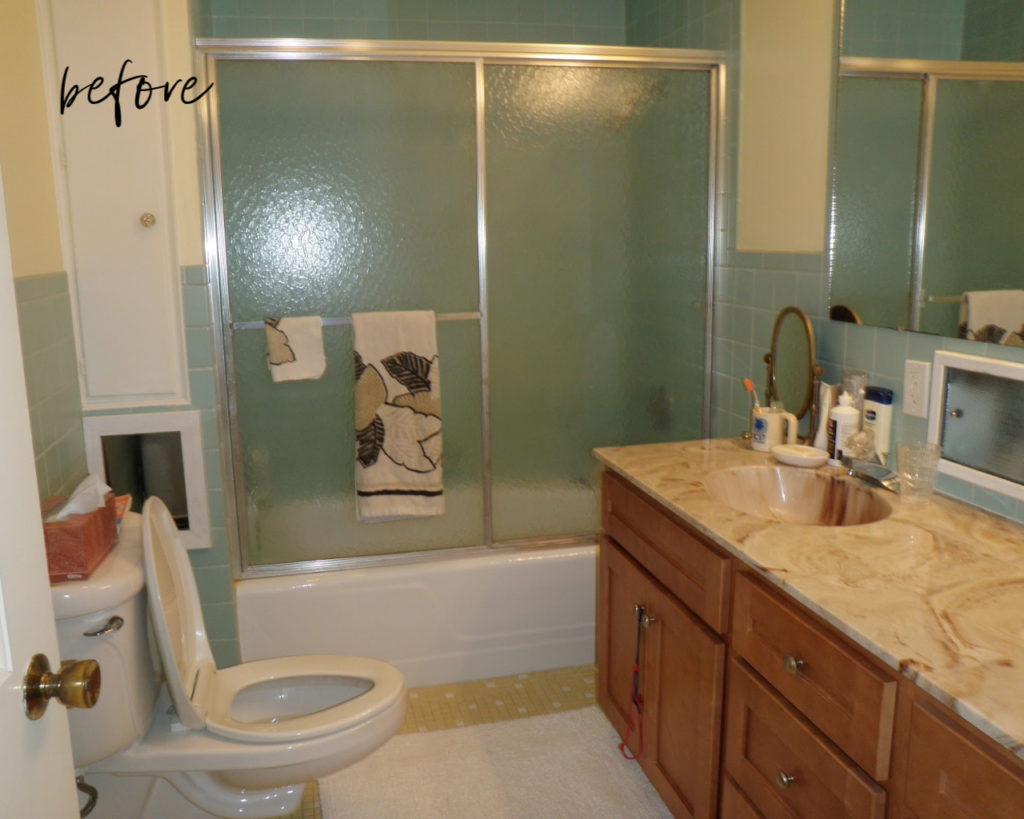 As I mentioned earlier, staging is similar to room redesign or makeovers. There are usually budgetary constraints and fixed items that must stay. When a room runs amuck… clients call me in to fix it. My job is to pull it all together in as little time as possible, using as little money as possible while keeping what must stay.
For this particular client I acted as a staging and design consultant. I selected a color palette based on what was staying–the mint green tile and the brown sink vanity. I made recommendations on flooring, wall paint color, bathtub fixtures, and linens. My client assembled her options and called me back to tell her what worked and what didn't. The end result was a harmonious bathroom remixed on less than a dime.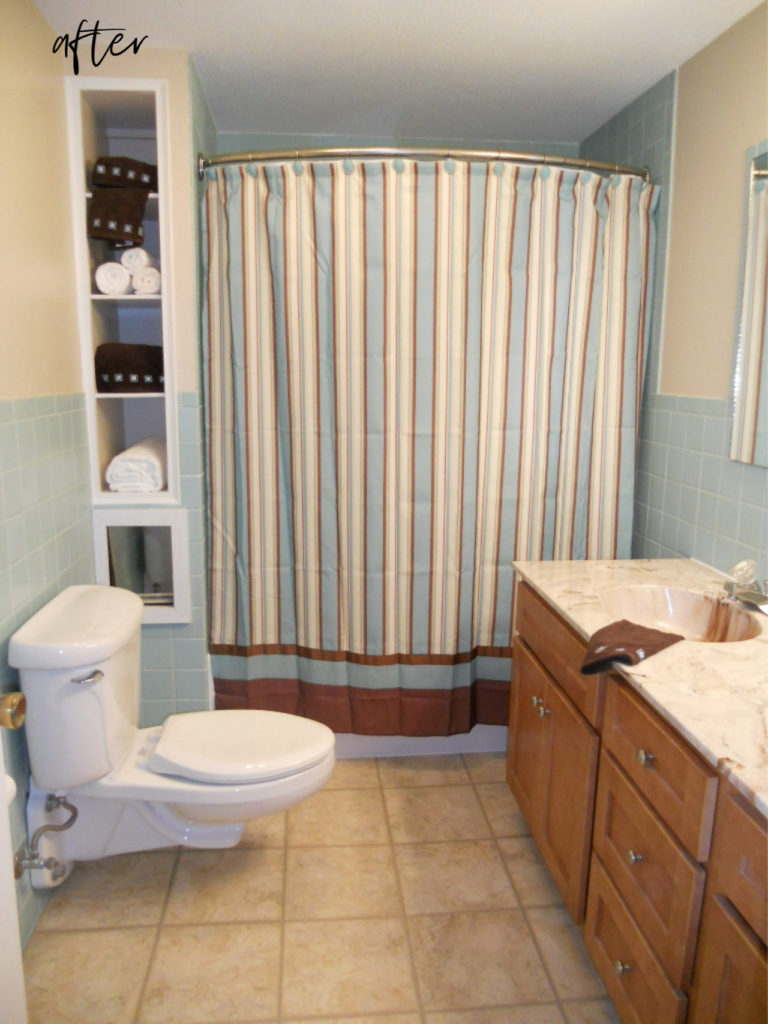 What we did:
Homeowner installed sticky vinyl floor tiles directly on top of the sheet vinyl. (Lucky for the homeowner the toilet was mounted on the wall or a plumber would have been required costing $$.)
Drywall was painted Kilim Beige.
Bathtub was fitted with a new liner. (Most expensive part of the makeover.)
Shower doors were removed and replaced with a shower curtain. (Lucky again for the homeowner… I just happened to have this shower curtain in my van leftover from another staging job.)
Homeowner removed the wall cabinet door to expose cubby holes for new towels. This gave the bathroom a more updated feel.
After the home was completely staged, the Realtor adjusted the price and placed it back on the market. The house sold in less that 60 days, and the homeowner was thrilled!